What's New at Judean Memorial Gardens
Ongoing Projects:

The "War on Weeds" continues... In recent years we have been applying "pre-" and "post-emergent" treatments to resist the onset of crab-grass. The results have grown more encouraging with each passing year. Please bear in mind that during the hottest, driest summer months the emergence of some crabgrass may be inevitable! In such conditions, recent graves are more susceptible to crab grass invasion as the young grass dies or goes dormant. Should you see this happening, please contact the office and request reseeding of the site in the next growing season.
"Extreme Weather":

Heavy rainfall can be damaging, as soil is washed down atop flat markers, and the settling of graves accelerates, causing "holes" to appear. All such problems are addressed asap, but tend to pile up immediately after the rain stops. (Please don't expect to see a perfect landscape the day after the rain ends!) We are also looking at ways to improve the drainage systems in the cemetery, to mitigate the damage caused by such weather events.

Section Ten Expansion
Section Ten

is a unique area in Judean: the only Section designed to accommodate upright granite memorials, with 10-foot walkways between each double row of sites, and other features that satisfy orthodox requirements. We continue to add rows to this section, and install fast-growing, white pine trees along its high, Western border.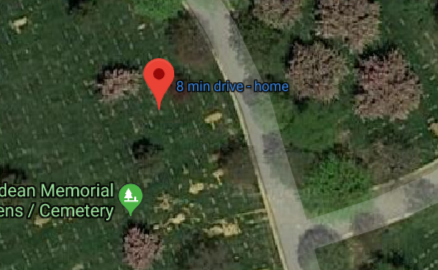 GPS Navigation Feature
Check out our new
"Locate Your Loved One"
tool (see link, top-right). If you have GPS services and Google Maps enabled on your phone or other device, you may use this feature to navigate to your loved one's site. Results may vary, with location, weather conditions, and your device. For best results, be sure to read the provided "TIPS" (link).
Timesavers
No one at the time of need is required to come to the cemetery. Items that must be purchased before a burial takes place can also be completed by phone. Charges that are due can be charged by phone. Interment authorizations can be faxed to the family or the funeral home for signature. If a death occurs on the Sabbath, the family or the Rabbi can call the Memorial Counselor or the Director after the Sabbath. For orthodox families in our upright monument monument section, we will accommodate next day burial whenever possible if called immediately after the Sabbath ends.
Looking Ahead: Section Sixteen (16)
Judean has experienced steady growth since our inception in 1975, reaching a "half-way point" of development with the millennium. Today, our long range development plan, with developed, as well as undeveloped areas, assures future availability for decades to come.
Section Sixteen
will be located at the South end of Judean, with approximately 600 new sites and 4 - to 8 blossoming trees planned for inclusion. A limited number of
Private Estates
will be made available in the area West of Section 16. Those interested in pre-planning in Section 16: please contact your Judean Memorial counselor for more information.